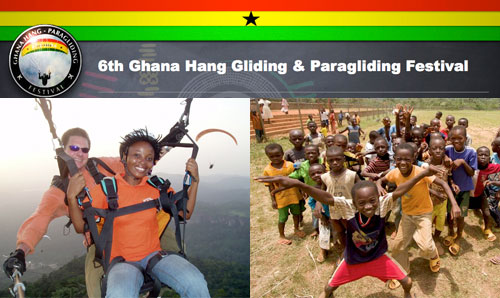 The 6th Ghana Hang Gliding and Paragliding festival is now an important part of the Easter celebrations in Nkawkaw, Ghana. Planning is underway for this year's event, which takes place from 22 – 25 April 2011.
Paraglider and hang glider pilots are invited to visit this beautiful part of Africa for fun, flying and cultural exchange. Tandem pilots may like to share the pleasures of free flight with Ghanaians, for whom it is otherwise an experience they are unlikely to get the chance to enjoy.
You only have to read a few of the comments on the Ghana Paragliding Festival's Facebook page to see how well loved the event is by those who have been before. Music and dancing, crowds of smiling faces, wonderful flying in big, gentle thermals … you have to experience it.
Festival organisers will look after everything for you: hotel accommodation, transportation, meals and cultural immersion via local daytrips.
The festival helps to strengthen the local economy, by creating opportunities for taxi drivers, hotel owners, restaurants and souvenir sellers. Last year the Cloudbase Foundation raised $3,000 to buy a water container for the 'Bless the Children' orphanage, a gift that will make an enormous difference to everyday lives, long after the weekend's events have turned into distant, happy memories.
www.ghanaparagliding.com
Email the organisers.
Related Posts