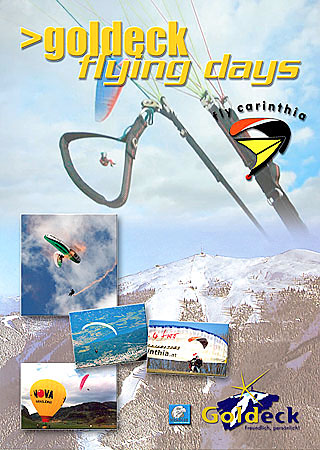 Austria's Fly Carinthia flying school and Seeadler Club are organising a paragliding festival in Goldeck, Austria, from 2-3 April 2011.
Goldeck mountain has launch possibilities for all wind directions and a 1,500m top-to-bottom, which equateds to a 20-minute glide. This means a maximum of flying time should be possible.
There will be a trade show and testival in the official landing field which is near the cable car station, so equipment-testing couldn't be more convenient. There are also lower, driveable launches for those looking for fast-turnaround and the opportunity to test several products.
Tandem flights are available for non-flyers, and local acro talent Against the Grain (Xandi Meschih and Bernd Hornböck) have been booked to perform air shows for the crowds.
Nova's Hannes Papesh and Toni Bender will be there, so you can discuss glider design, ask any questions or simply pass the time of day with them.
Day tickets cost €19, and include  two trips to Goldeck launch, a meal and a drink. You can buy extra trips to the launch for  €8 a time.
Food and drink can be bought on-site, and organisers are looking forward to "a good après flight on the landing strip".
More information on the event's website.
---
• Got news? Send it to us at news@xcmag.com.
Subscribe to the world's favourite hang gliding and paragliding magazine
home
Related Posts