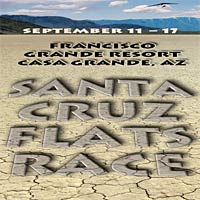 Dates for the 2012 Santa Cruz Flats Race will be 16-22 September (which is a recent amendment and different to those on the poster, left).
The hang gliding competition will be based in the Francisco Grande hotel and golf resort in Arizona, USA.
The event is split into three classes of wing: flexwings, rigids and Swifts, although the latter two classes were not very heavily populated in 2011. Then, Jeff O'Brien won the flexwings category on his Wills Wing T2C, after five good tasks were flown, ranging in distance from 93 to 124km.
To get a feel for the hang gliding potential of  Arizona, check out Brett Hazlett's video:
santacruzflatsrace.blogspot.com
---
• Got news? Send it to us at news@xcmag.com.
Subscribe to the world's favourite hang gliding and paragliding magazine
Related Posts