• Hanuman Airlines on XCshop.com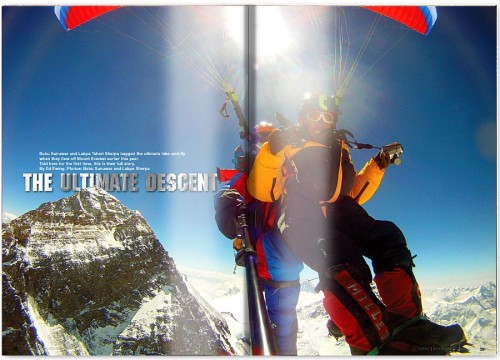 The Everest paragliding movie Hanuman Airlines – Fly Over Everest has been released and is on sale through XCshop.com.
The film features unique footage of Babu Sunuwar and Lakpha Tsheri Sherpa paragliding from the summit of Everest.
Voted National Geographic Adventurers of the Year 2012 the pair made a record-breaking journey that started at Everest base camp and finished at the Bay of Bengal.
They climbed Everest, flew from the summit, and then hiked, biked and kayaked to the ocean in May 2011.
They filmed the journey themselves all the way, and this is the result, a spectacular journey to the top of the world, and off it.
A shorter version of the film won numerous awards when it was shown around the world on the 2011 film festival circuit, including top prize at the 2011 Coupe Icare where it received a thunderous standing ovation.
The Everest flight succeeded in capturing imaginations around the world and in February 2012 the pair were voted National Geographic Adventurers of the Year 2012 for their feat.
Using digital cameras and GoPros and getting in close to the action, this film takes you with the pair as they fly up and over Everest and through the biggest mountain terrain on Earth.
• Hanuman Airlines – Fly Over Everest, 28 mins plus 60 mins extras, £14.95, available through www.xcshop.com
• Read more: Babu Sunuwar flies off Everest
---
• Got news? Send it to us at news@xcmag.com

Subscribe to the world's favourite hang gliding and paragliding magazine
Related Posts