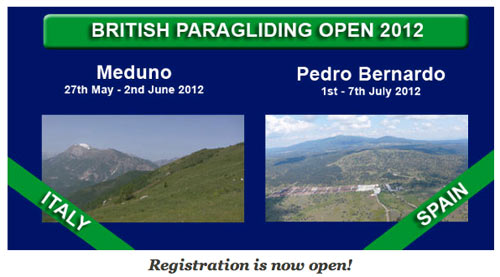 Registration for the two rounds of the British Paragliding Championships is now open. The rounds will be held in Meduno (Italy) and Pedro Bernardo (Spain).
Each round is a stand-alone FAI-sanctioned competition, and will score world ranking points. 
This year will be the first time the British Championships have been to Meduno in Italy. The dates for the round are 27 May – 2 June 2012.
Pedro Bernardo is on the southern facing side of the Sierra de Gredos, the other side of which is the well-known and world-renowned site of Piedraheta. In 2008 the British Championships enjoyed "excellent flying and good tasks" of around 65 to 75km at this site. They will be back this year from 1-7 July.
The entry fee for each competition is £188, or pay for both before 15 April and get a £20 discount: both competitions for £356. Places are filling very fast … you have been warned!
---
• Got news? Send it to us at news@xcmag.com.
Subscribe to the world's favourite hang gliding and paragliding magazine
Related Posts