Travel Guide
Where to go in November / December
Travel Guide: Suggestions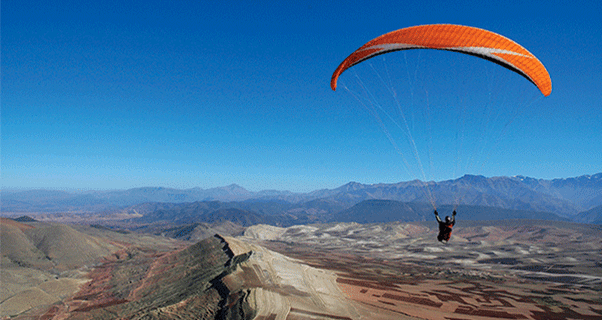 Aguergour in Morocco is an affordable winter retreat for weatherbeaten European free fliers Read >>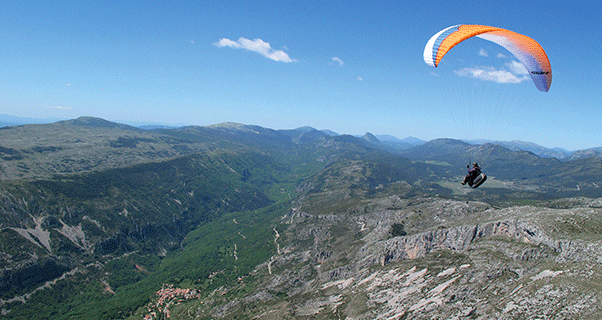 Come to the sunny south of France, a little corner of the Maritime Alps with a protected microclimate and year-round flying Read >>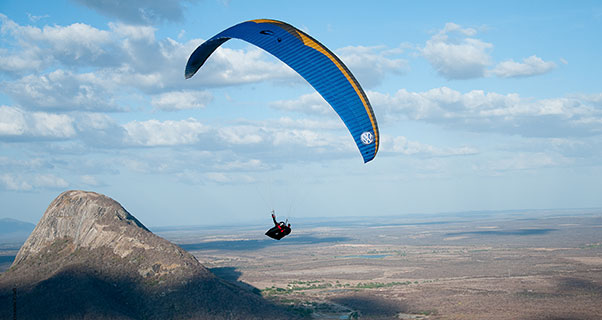 If you can cope with the gusty launch, you can go a long, long way Read >>
The Cross Country International Travel Guide is published every year and features in-depth information to some of the best-know flying sites around the globe. Where they are, when to go and how to fly the classic routes are all included.
Volume 5: Travel Guide 2016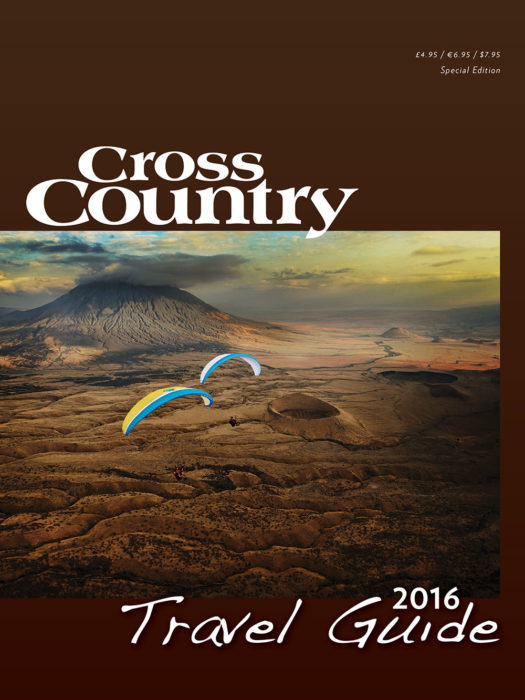 Daydreaming turns into reality every time we take off in our sports – and the new Cross Country International Travel Guide is all about making those dreams come true.
Our latest 100-page international travel guide visits and updates some old favourites but also uncovers some exciting new places, providing information and inspiration in equal measure.
Each entry is researched and fact-checked – usually by people who know the site the best: the locals who live and fly there.
In brief, the Cross Country Travel Guide 2016 covers:
European winter escapes
Bright in Australia
Ager in Spain
The Azores
Bucaramanga, Colombia
Annecy's secret spots
Stress free competitions
Governador Valadares, Brazil
Dune du Pyla, France
Island hopping through the Med
Unknown Brazil
Macedonia
Hidden gems of the Cote d'Azur
The best paramotor fly-ins for 2016
Himalayan getaways
Hike-and-fly events
Paragliding and paramotoring in Thailand
Gavin McClurg's guide to flying the Red Bull X-Alps
And a year in the life of US hang gliding star Jamie Shelden
The incredible cover photo is by pro photographer Felix Woelk and is from an expedition he made in eastern Tanzania.
Available to buy (free p&p) in the XCShop or digitally.

---
Volume 4: Travel Guide 2015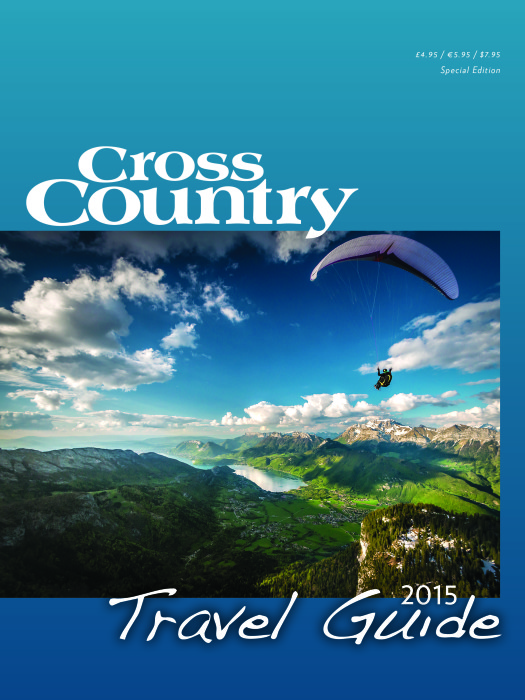 In 2015 we selected several major destinations – from Annecy in France to Manilla in Australia to the Dolomites in Italy – which are pilot honeypots, sites known for their good conditions and pilot-friendly infrastructure. We've explored them in depth, talking to the locals and getting the lowdown on how to fly there.
Plus we've taken dozens more sites and presented them in snapshot form. How about the manmade soaring hill in Abu Dhabi? Soaring Pacific air on Oahu? Flight parks of the USA? Acro heaven in Spain? Going XC in Haiti? Flying the magical islands of the Azores?
The result is a beautiful special edition that showcases the very best of what our sports have to offer around the world. Presented in the same style as the magazine, with the very best photography and an easy-on-the-eye layout it is designed to provide inspiration to pilots throughout the year.
Buy the print edition for £4.95
Also available in digital format
---
Volume 3: Travel Guide 2014/15
Packed full of information and stunning photographs the Cross Country Travel Guide 2014/15 features some of the very best hang gliding and paragliding sites on Earth.

 With contributions from pilots on the ground who really know it includes unique guides to 24 internationally-famous sites, including:
Kerio Valley, Kenya; Roldanillo, Colombia; Cape Town, South Africa; Salzburg, Austria; Glen Coe, Scotland; Annecy, France; Manteigas, Portugal; Kobarid, Slovenia; Golden, Canada; Sun Valley, USA; Combe Gibbet, England; Azores Islands; Ager, Spain; St Hilaire, France; Linzhou, China; Canungra, Australia; Gangtok, Sikkim; Tenerife, Spain; Rio de Janeiro, Brazil; Torrey Pines, California; Roquebrun, Monaco; Greifenberg, Austria; Lovcen, Montenegro; Bariloche, Argentina.
This A5 format magazine can be easily taken on your travels and contains 108 pages printed on the same stock as Cross Country to the same high standards. The result is a must-have read for every pilot and comes free with Cross Country Magazine subscriptions. The perfect travel companion.
Buy the print edition for £4.95
---
Volume 2: Travel Guide 2012/13
The 100 page 2012/13 Travel Guide from Cross Country magazine features in-depth guides to 24 of the best flying sites around the world including the Alps, the USA, South America, Mexico, Australasia and Asia.
Including: Kamshet, India; Wanaka, New Zealandl Zaachila and Fortin de las Flores, Mexico; Bright, Australia; Marshall, USA; Dune de Pyla, France; Garmisch, Austria; Flight parks, Florida; Lake Garda, Italy; Tolmin, Slovenia; El Yelmo, Spain; Mayrhofen, Austria; Woodrat, USA; Voss, Norway; Sopot, Bulgaria; Cervinia, Italy; Castejon de Sos, Spain; Pamukkale, Turkey; Greolieres, France; Col Rodella, Italy; Taining, China; La Palma, Canary Islands; Traslasierra, Argentina; Nid d'Aigle, Morocco
Buy the print edition for £4.50
Buy the digital edition
---
Volume 1: Travel Guide 2010/11
With contributions from some of the best pilots in the world the 2010/11 Travel Guide includes unique guides to 23 internationally-famous sites, including:
Cusco, Peru; Laragne, France; Chamonix, France; Chelan, Washington; Kossen, Austria; Verbier, Switzerland; Jackson Hole, USA; Piedrahita, Spain; Interlaken, Switzerland; Andalucia, Spain; St Andre, France; Annecy, France; Owens Valley, USA; Oludeniz, Turkey; Bir / Billing, India; Quixada, Brazil; Porterville and Wilderness, South Africa; Aguergour and Ait Ourir, Morocco; Pokhara, Nepal; Manilla, Australia; Governador Valadares, Brazil; Bassano, Italy
As well as the 'Get high, go far' secrets revealed in the site guides, there are articles on going lightweight, travelling with your hang glider by Jeff O'Brien, travel gear and technology.
Buy the print edition for £2.95
Download it for free as a pdf
---
Subscribe and get one free
Subscribers to Cross Country magazine receive the most recent Travel Guide with their first magazine. More details here.